From red carpet to film, runway, music and special events, Kimberley Bosso is one of the most sought-after celebrity makeup artists in Hollywood. With a name with the word "Boss" in it, there was a slim chance anything could hold her back from achieving all she has. Raised on the east coast, Kimberley resides in Los Angeles (Beverly Hills), and has been in the makeup industry for almost two decades. Starting out with working makeup for photographers in Hollywood, she soon found herself working along side Popstars (and for Popstar Magazine) like Justin Beiber, Hilary Duff, and Zac Efron.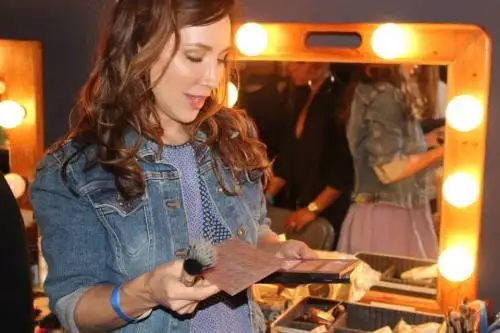 Soon after, she took off for Paris and London and fell into the fashion world of editorial makeup. She has put her elite skills to use for fashion weeks around the world (NY, Paris, Milan, LA), side-by-side with designers such as Donna Karan, D&G, Bereshift, Flumae, Commune Bonum, Plastinina, Lulu et Gigi, and Paige Adams Gellar, as well as top fashion photographers on high-profile editorial shoots and ad campaigns (Bebe, Paige Jeans). By understanding the dynamics of airbrushing, she holds her unique secret to achieving the ever-famous "red-carpet glow." Her client roster consists of A-list celebrities including Brie Larson, Zac Efron, Marissa Tomei, Matt Damon, Jackie Jackson, Taryn Manning, Candace Cameron Bure, Nick Jonas, Neil Patrick Harris, Al Pacino, Paul McCartney and a host of others. During her lengthy makeup career she traveled through Eastern Europe, in which she met with heads of major cosmetic companies, researching advancements in beauty products and skin care, and was chosen to become the spokesperson for a luxury spa in Prague (Le Palais Hotel). Upon returning, she launched her 
makeup line Bosso Beverly Hills
 in 2014. Her cosmetic line carries vegan makeup products with anti aging properties, as well as non-vegan, but always paraban and cruelty-free. Kimberley Bosso also has 
two intensive
makeup schools
 with an 
exclusive makeup course
 held once a month for aspiring artists when she's not on set. She has two locations. Her flagship since 2008 is held in Beverly Hills, California, and her 2nd location is in Tampa Bay Florida in which she teaches there quarterly. Students have traveled from around the globe to be trained under her caring and supportive expertise.
Graduates have gone on to working NYFW on the Bosso team
, Access Hollywood, red carpet events, and building a celebrity clientele all their own. What makes Bosso Intensive school so unique is it's small setting of 4 students max as well as Kimberley giving graduates a once in a lifetime opportunity to work alongside her and her team backstage at NYFW (Paris and LA) and red carpet events like the Oscars or Emmy's. Setting her apart from other makeup artists in the industry, 
Kimberley is also a reoccurring beauty expert on television shows such as The Doctors, Home and Family (Hallmark), David Tuterra (CELEBrations), as well as news stations such as CBS, NBC, and Fox.
 Kimberley is also a beauty writer and contributes pieces to popular publications such as Women's Health and major websites like BeautyRiot and Popsugar. She's a big advocate of giving back as well, offering makeovers to charities such as Stand Up To Cancer (Sony) and APLA. Kimberley's passion and infectious optimism inspire those around her, and her impeccable work ethic, supportive nature, and creativity put her at the top of her game, elevating the makeup industry to a new level. Be sure to follow Kimberley on Instagram 
@BossoMakeupBeverlyHills
 for the latest updates. Kimberley Bosso is available for press junkets, Q&A's, commentary, contributing articles and more. For media or press inquires please contact Kimberley.